Tuesday, May 28, 2013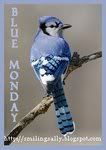 Hi everyone! Happy Tuesday!!
How's your week so far? Hope we all have a productive week ahead. Here's last week's happenings:
Cooked this soup last Monday. Yum! The news last Tuesday (Monday in US) was truly heartbreaking.
used gadget indeed! Then the next day, it was a play date with her Ate Chu-chay, her nanny's daughter!
This what was keeping her busy last Sunday.
Have a great week everyone!