Friday, November 18, 2011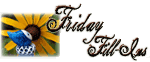 And...here we go!
1. As you can see
I super busy these past few weeks and I am not liking it!
2.
I really need to finish schooling
soon!
3. I love to buy
gifts for this coming holidays but I still couldn't find time to do that
.
4.
I have to make my list now for these coming holiday
gift(s).
5. What's up with
last week that I almost couldn't breathe because of too many things I have to do
.
6.
Though I cannot feel it yet, holiday is just in my
fingertips.
7. And as for the weekend, tonight I'm looking forward to
just the usual busy day at work
, tomorrow my plans include
staying at home and finishing what I need to do
and Sunday, I want to
just make up with my family since I have been busy the whole week
!