Friday, March 25, 2011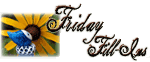 So...here we go!
1. Why does it
always have to be your way, can it be mine this time?
2.
The love you take
is equal
to the love you make
.
3. My favorite breakfast includes
a tall glass of hot milk
.
4.
Cisco Press
was the last book I read
and it has been for ages now
.
5. I am SO glad
that my little tot will be attending a summer program for beginners of Preschool so she could be ready when the classes start this June
.
6.
A tall glass of hot earl grey tea with mint syrup and non-fat milk
would make me feel better right now.
7. And as for the weekend, tonight I'm looking forward to
just the usual things at work
, tomorrow my plans include
nothing much, just catching up for some sleep since I have been in a long work schedules this week
and Sunday, I want to
see my friends at my new god daughter's Christening but unfortunately I won't be able to make it since we got a prior appointment plus I need to work in the afternoon
!
To My BDJ,


I have started to appreciate your worth since the start of 2010 because I have been relying on to my memory for years. But since I have been getting erratic schedules up until now (yes because of that and not because of *eherm* aging or I can blame it to anesthesia as well) and I sometimes find myself calling a colleague who could double check my desktop calendar for some scheduled activity. Which is extremely humiliating! I need to have you with me everywhere I go or at least you being handy whenever I need you. I know just as long as I have written everything inside you, you won't fail me.

From a Busy Employee who is so Thankful to a Friend who gave her this
--------------------------------------------------
TGIF once again! Come and join us at
and
meet lots of wonderful bloggers
! Thanks much for my new followers! Feel free to wander and comment on my simple abode! I love hearing those! Hope you will all have fun! I will definitely head over to your blogs and return the favor!
Enjoy your weekend everyone!

===================================
I am participating in the 2011
Mommytography 365 Project
! For this year long project I will be posting an image a day, to get me out shooting, using my camera and learning new things with it daily. Anyone interested in photography can join, no need to be a Mommytographer. We have teens to adults, male and female, as well as people from all over the world. Come join the fun!
===================================