Friday, March 19, 2010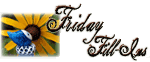 And...here we go!

1. Today I will be much better as I took a leave from work yesterday.
2. A friend ask me if I can still wear a 2-pc swimsuit now that I'm a mom and I say why not? :)
3. What do you think of this coming Earth Hour? Will you support it?
4. At French Baker, I hope that it's free Pastry Day til 1030 Friday!
5. People say that what we're all seeking is a great companion who can stay all throughout our lives and not a just lover.
6. The image I cherish most is my mom's, whom right now I can only view through my dreams and my imagination.
7. And as for the weekend, tonight I'm looking forward to going back to work since our swimming date with hubby and some of my friends was canceled but it's okay since I am still recovering from colds, tomorrow my plans include a wonderful overnight stay with hubby and our baby at The Bellevue hotel and Sunday, I want to do nothing much but to hear the mass and just chillax at home!


She wore her swimsuit all this morning. I guess, she can't wait for tomorrow! :)
On the other note,
I already have met online several wonderful bloggers across blogosphere
so once again, I am joining
Jump in and join the fun :)
Thanks in advance to my new followers :)
I will definitely return the favor! Nice you meeting you all!
With Him, nothing is impossible!
Have a wonderful weekend!
Thanks Tracy for another wonderful first comment!
===================================
I am participating in the 2010 Mommytography 365 Project! For this year long project I will be posting an image a day, to get me out shooting, using just my point and shoot camera or sometimes my cellphone camera and learning new things with it daily. Anyone interested in photography can join, no need to be a Mommytographer. We have teens to adults, male and female, as well as people from all over the world. Come join the fun!
===================================