Friday, March 12, 2010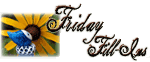 And...here we go!

1. I am so looking forward to having a "me" time soon, how about you?
2. Catch yah later.
3. When you get a chance, please tell her that I miss her so much.
4. Definitely my family is a big part of my life.
5. If you need anything just don't hesitate to approach me, I will always be just a message away.
6. I know you have been waiting for this, so be safe because you surely deserve a trip.
7. And as for the weekend, tonight I'm looking forward to the usual stuffs at work and probably a short stroll at the bazaar outside, tomorrow my plans include taking hubby and baby to the hospital for checkup, they both have colds today :( and after that will pickup her sister at Ateneo and Sunday, I want to just chill out and have fun most likely while watching Manny Pacquiao's fight!

On the other note, once again, I am joining
in the hope of meeting lots of wonderful bloggers around the blogosphere! Jump in and join the fun :)
Thanks in advance to my new followers :)
I will definitely return the favor! Nice you meeting you all!
Allow me us well to share this:
took this at Petron Gas station just this morning. They still have this
banderitas
(colorful trimmings) that they have used during their recent opening.
And most of all,
Thank you Lord for the much needed RAIN!
Have a wonderful weekend ahead!
Thanks MelCole for the wonderful first comment!

===================================
I am participating in the 2010 Mommytography 365 Project! For this year long project I will be posting an image a day, to get me out shooting, using just my point and shoot camera or sometimes my cellphone camera and learning new things with it daily. Anyone interested in photography can join, no need to be a Mommytographer. We have teens to adults, male and female, as well as people from all over the world. Come join the fun!
===================================