Friday, March 5, 2010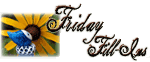 And...here we go!

1. Why are you making stories? You should be responsible enough to think of the people that surrounds you.
2. I want you to take good care of yourself because if you won't, no one will.
3. If you don't have any suggestions then it will be on my terms.
4. Expose under the sun without any sunblock on and see what happens.
5. I could use a pinch of petroleum jelly with water as my moisturizer.
6. Go back to your doctor for check up and then take a day off to regain your energy.
7. And as for the weekend, tonight I'm looking forward to just spending the night with my kiddo, tomorrow my plans include nothing much as I have to go to the office tomorrow and Sunday, I want to visit my hygienist for my usual mani/pedi and eyebrow threading!

On other note, I am once again on:


Join us and meet all the wonderful bloggers from Friday Follow!
Oh by the way, pick some and enjoy:
From
===================================
I am participating in the 2010 Mommytography 365 Project! For this year long project I will be posting an image a day, to get me out shooting, using just my point and shoot camera or sometimes my cellphone camera and learning new things with it daily. Anyone interested in photography can join, no need to be a Mommytographer. We have teens to adults, male and female, as well as people from all over the world. Come join the fun!
===================================