Thursday, March 11, 2010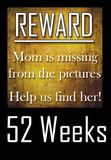 These photos were taken during my new godson's (Iñigo) Christening last February 28. It was held at Christ The King Greenmeadows, Pasig City and the reception followed at Panciteria San Jacinto along C5 road just around 5 minutes away from the church.
Us with my good friends and their kiddos :)
I was cuddling Iñigo on this photo and he really couldn't take away his eyes on me for some reasons, thus we weren't looking at the camera :) And as always our baby still doesn't wanted to look where the photographer is hehehe
Oh allow me to add this, remember
my post about looking for a perfect dress?
I was really having a hard time looking for that perfect dress for a petite woman like me. Believe me! I have checked all possible boutiques even teens section at SM Southmall. So here it is! Made by
Miss Couture
.
I will post a photo of me wearing this next time :)
Thanks to Carrie of
Life in the Slow Lane for the wonderful first comment!
===================================
I am participating in the 2010 Mommytography 365 Project! For this year long project I will be posting an image a day, to get me out shooting, using just my point and shoot camera or sometimes my cellphone camera and learning new things with it daily. Anyone interested in photography can join, no need to be a Mommytographer. We have teens to adults, male and female, as well as people from all over the world. Come join the fun!
===================================