Thursday, March 4, 2010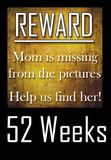 This is me at the Eye Expert, trying hard to get a good shot of me through the glass reflection and with all those eyeglasses as the background. The yellow silhouette beside me was my sister and beside her, the one in much brighter yellow was my hubby :) Yeah even our baby were all wearing yellow that day. We didn't plan it, we just notice it when we were already inside our car.
Here's a proof of it:
Oh by the way, I just wanted to share that
I will start my water-therapy by today
, I will try to increase my water intake up to at least 8 glasses a day or 1.5L a day. I have read a lot about the goodness it can bring to our body plus I think I really need it to compensate the few hours of sleep that I have most of the times. So wish me luck! :)
===================================
I am participating in the 2010 Mommytography 365 Project! For this year long project I will be posting an image a day, to get me out shooting, using just my point and shoot camera or sometimes my cellphone camera and learning new things with it daily. Anyone interested in photography can join, no need to be a Mommytographer. We have teens to adults, male and female, as well as people from all over the world. Come join the fun!
===================================