Tuesday, February 9, 2010
Thanks Mimi, I am joining too :) I know you won't mind :) Hugs!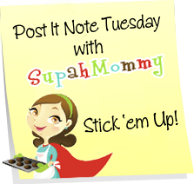 After that two Post It! notes, my mind went blank hehehe I will add more later or probably, that will be all for now :) Feel free to join us by simply clicking the yellow Post It! on top.