Friday, February 26, 2010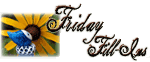 And...here we go!

1. A cup of tea with non-fat milk and some shots of mint syrup is enough to brighten up my day.
2. A warm and cozy ambience makes a place feel like home.
3. Everything has its beauty inside and out.
4. Do you like the taste of strawberries?
5. Art makes me imagine different things.
6. LOL I just noticed I forgot to wear my shoes when I go down the car to the office.
7. And as for the weekend, tonight I'm looking forward to a good night sleep, tomorrow my plans include nothing much, just chilling out with my family together with my Dad, Sis and my Bro since we'll be spending a night with them and Sunday, I want to stroll at SM Megamall after attending Iñigo's, my new godson, Christening!

By the way, we just got home from the wedding. It was tiring but we have lots of fun. Oh, unfortunately she didn't walk down the aisle for the second time around. She still hasn't conquered yet that part of stranger-anxiety though she was able to mingle with her godfathers and godmothers who were there too without throwing any tantrums. And that I am still so proud of her. Here's a bits of our conversation a while ago:

Me: "Why didn't you walk down the aisle again? Because of that you weren't able to show them your nice gown"
Baby: "It takes too long, maybe next time"
Our kids attention span is really short, and she was right. They have asked them to fall in line several minutes before they have started the ceremony. Maybe next time, we'll just join the line when it's already her turn ;) Photos to follow! I'll just leave you with these, hoping these are enough for the weekend!
From:
Yummy! I can recommend their cakes! :) I'll share a secret about them next time.
Have a wonderful weekend!
I am still joining Friday Follow to follow and meet other interesting blogs. It is all about sharing and having fun. Thanks in advance for following! I will definitely return the favor when I get back!
===================================
I am participating in the 2010 Mommytography 365 Project! For this year long project I will be posting an image a day, to get me out shooting, using just my point and shoot camera or sometimes my cellphone camera and learning new things with it daily. Anyone interested in photography can join, no need to be a Mommytographer. We have teens to adults, male and female, as well as people from all over the world. Come join the fun!
===================================