Thursday, November 12, 2009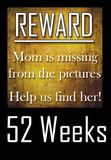 I just wanna share this photos to you guys. This was taken I think last year during the opening of
Manila Ocean Par
k
. What so special about this was this picture was included on
Mom and Kids magazine's Family Moments section.
Yey! I used to send our photos that matches their theme or their requirements for a particular section to any of our local magazines and this one made it :) I know this was ages ago as you can our baby was too young then and I haven't got my pre-pregnancy figure back then yet. Eww! hahah
Thanks for viewing! Do click the logo above to view other entries.