Friday, October 2, 2009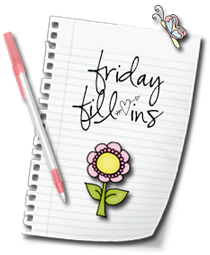 Graphic courtesy of
Tonya
!
And...here we go!
1. I have a history of
skin asthma-like rashes and good thing I got my skin overhauled haha because now I don't have it anymore but it made my skin as sensitive as that of a baby.
2.
Extreme sports like mountain climbing, sky diving etc
is something I wish I knew.
3. I'm eating
vanilla drop cookies right now
.
4.
There are lots of cars
on the road
right now.
5. So that's it, that's
the only thing you could say? You don't even know her!
6.
Used clothes are
better than nothing!
7. And as for the weekend, tonight I'm looking forward to
a cold evening
, tomorrow my plans include
nothing, we'll just stay at home because of Pepeng
and Sunday, I want to
see a clear sky, hopefully
!
Click the logo above to see other entries :)