Thursday, October 15, 2009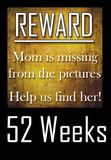 I saw this photo from my files while browsing and thinking which photo will be my entry for this week. Since I like to share a picture of me on different angles I have decided to pick this one. Sorry if its kinda old hehe This was one of my pictures when I was still pregnant. It was taken at Subic, me and hubby together with our friends, and was shot before they ride the zipline (that's explains the helmets on). We definitely enjoyed it though I was just the photographer back then.
Thanks for viewing. Click the logo above to view more entries.