Thursday, October 29, 2009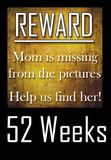 Gosh! Why didn't I learn from you guys?! hahaha I forgot that I need any photo with me on it every Thursday. Now I don't have so recent entry to post! Arggh!! I got this one included on my
Ruby Tuesday's
entry for this week so I know some of you already seen it but I have it added again for some who don't.
And for those who have seen the above post already, here are some addition though not all are in good resolution (sorry)
Can you see me? I won on raffle draws haha and I was waving what I got for our baby and also was surrounded by all of my friends' kids :)

And here's another one, in case the photo above isn't acceptable hahah Me with my friends on Kyle's 7th birthday :)

Whew! Now I know what to keep in mind hahah Click the logo above to view other entries. Btw, I will view all your posts later because I will be tied in a training. See yah!