Wednesday, September 23, 2009
Since most of you guys got interested on one of my Give Me Five list this week, the Watermelon Shake, I am sharing the instructions on how to prepare that: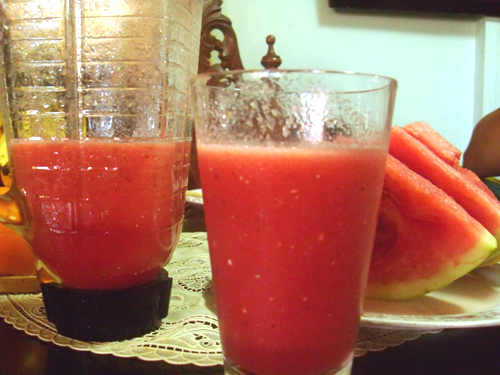 Photo Source: Patay Gutom
Things You'll Need:
A blender
Watermelon
Ice cubes
Sugar syrup
water
Here's how to prepare:
First, prepare the watermelon. Cut it into cubes. Remove seeds then put the cubes to the blender.
Then add the ice cubes followed by the sugar syrup. Make sure you have tasted the watermelon so you would know how sweet it is and how much sugar syrup you need to put in.
Pour a small amount of water to the blender. Just enough that you wouldn't turn it into juice :)

Now blend all the ingredients til all the ice cubes are already crushed.Taste it just to check if you need to add more syrup. Now it is ready for you to serve :)

Easy right? :) Enjoy it!