Saturday, August 1, 2009
Geesshh I know it's kinda late but honestly this is just the first time I've heard about this. Gosh! Really??? Eminem and Mariah had a thing before! Well, I like Mariah esp her songs but I am not really a fan of her but me thinks that they can't.. well, they don't and won't look good together. That's for me huh, and as far as I know Mariah has always been attracted to other type of guys, uhmmm physically (I know you know what I mean!) I also like Eminem and his songs but I haven't heard much of him since I think after his movie 8 Mile. So I am really kinda surprised that Eminem "claimed?" back in 2001 that they have a thing before which apparently Mariah until now refused to admit. And now they are both using the music industry to get back on each other! Mariah had released a single called "Obsessed" with a video that according to some is for Slim Shady. So now, it's Eminem's turn hence the release of "The Warning". Tsk! Tsk! As of now, it seems that this doesn't have an end yet.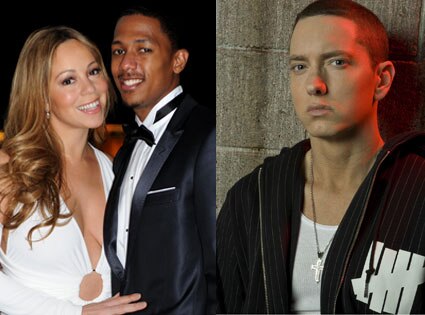 (Pic from E!Online)

Check out this article from E!Online if you wanna read more on this ish.